Customer stories: "I'm attracted to any pen that catches my eye."
One of the things that we love most about the luxury fountain pen community is how every single luxury pen collector has their own story to tell. As independent fountain pen dealers, we get to speak to a wide range of customers. Some of them may be looking to buy a high-end writing instrument for the very first time. Others may like to treat themselves now and then. We also have strong relationships with serious collectors who continually look to find rare or limited-edition fountain pens to add to their collection.
At izods, we enjoy getting to know many different people who all share the same common interest. For example, high-end fountain pens or rollerballs are highly sought-after because they are an accessible form of luxury. A great pen can often be far more affordable than a designer watch or luxury jewellery and are far easier to store compared to items such as designer shoes or handbags. It's why many people choose to treat themselves to a luxury fountain pen, rollerball, or ballpoint pen.
Because we work with so many different customers, we wanted to share some of their stories. So, we have taken the time to find out what drew many of our customers to the world of luxury pens and learn more about their favourite brands or specific models.
Here's what Cassandra, a primary school teacher from Margate, had to say.
I love to find a pretty nib or a coloured body
"I've always had an interest in writing. I remember when I was a child, I used to pretend to play teacher. I would spend ages practicing my writing, and as I grew older, this turned into writing comprehensive notes for class and during university. Then, when I was 18, I was given my very first fountain pen, and since then, I've never looked back.
I estimate that I have approximately ten pens in my collection. Fountain pens are my favourite pen style, and although I do like a cartridge convertor, most of my luxury pens tend to have piston filling mechanisms.
The most amount of money I've ever spent on a pen is £575. That's a low price compared to some of the models available, but it was a pen that I really wanted. I try to save up and treat myself to a new pen every six months or so. I don't stick to a specific make of pen; instead, I'm attracted to any pen that catches my eye. I specifically love to find luxury pens that have a pretty nib or a coloured body."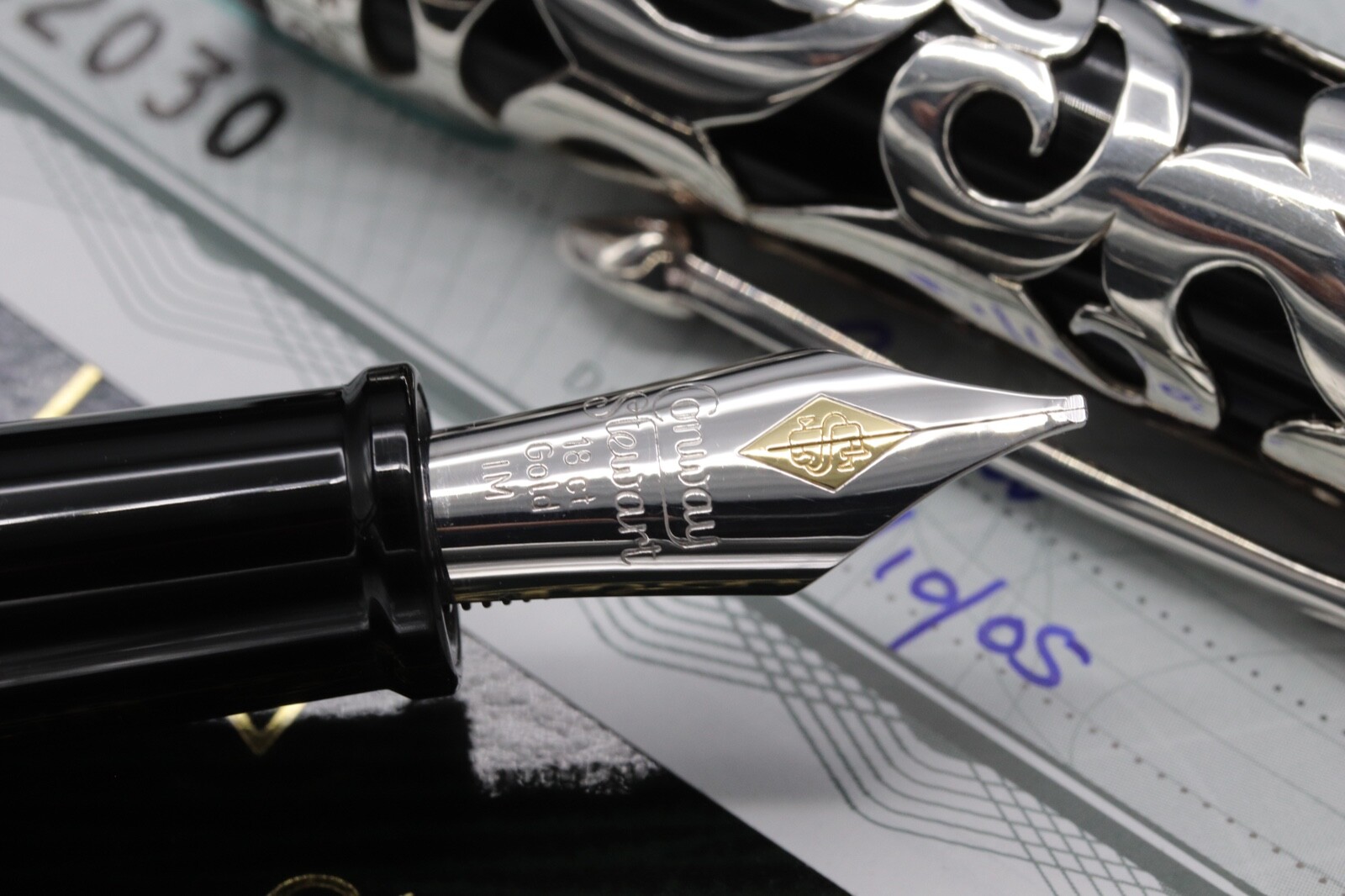 My favourite pen is made from lava. That's unique!
"If I were asked, I would say that my favourite luxury pen brand has to be Montblanc. Of course, some may say that it's an unimaginative choice. But for me, I believe the Montblanc pens are classic and have a timeless elegance to them.
In contrast, my favourite ever model must be the Visconti Homo Sapiens range. This is because these pens are made from reformed volcanic lava from Mt. Etna in Sicily. I love a pretty barrel, and these pens are so unique. It gives the pen a great history. Visconti isn't my favourite fountain pen brand, but the concept of making a pen from lava is impressive."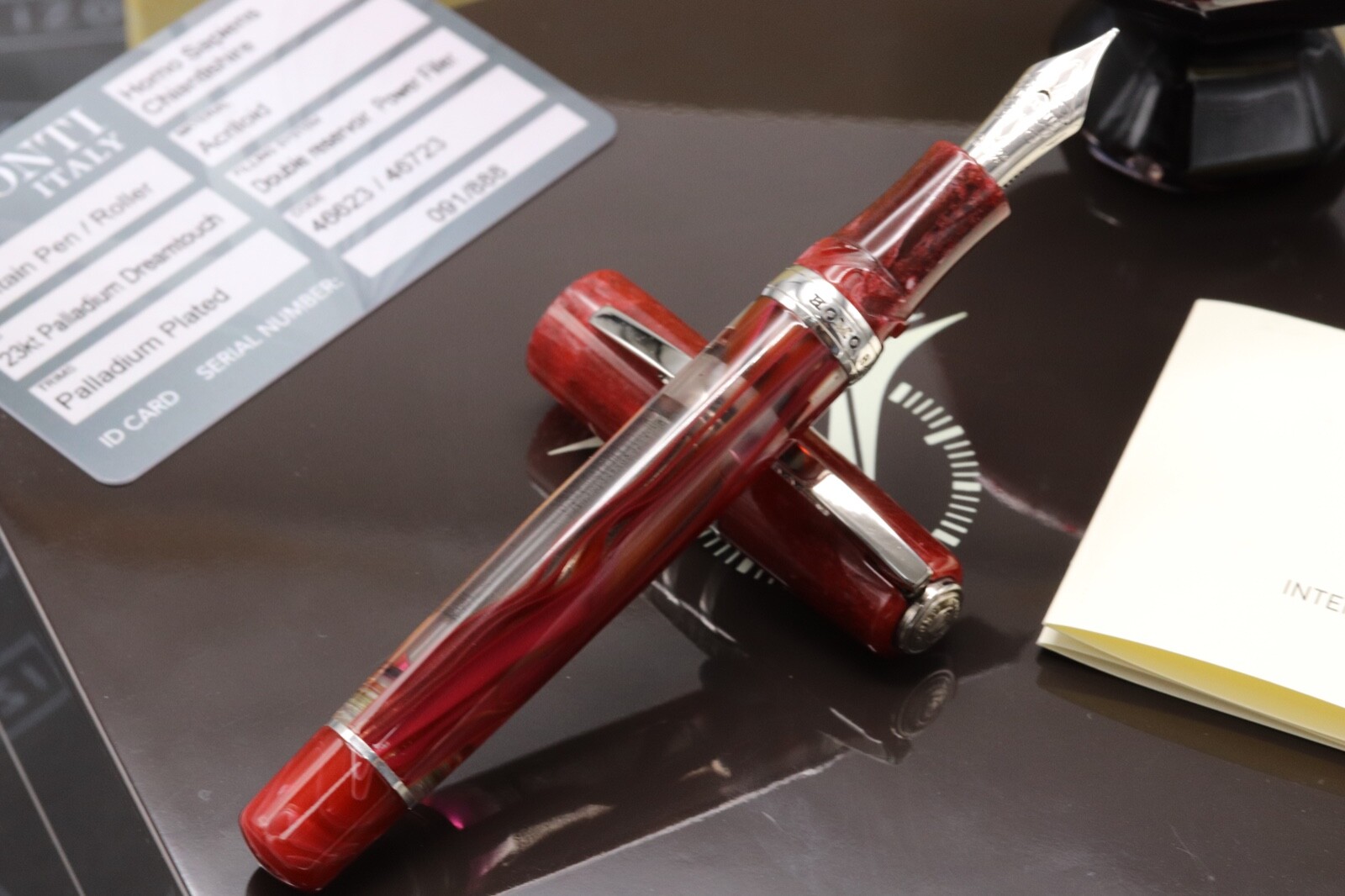 I love writing in brown ink. It makes me feel like an archivist
"There's something truly special about writing in a fountain pen. It can transform your handwriting into something extraordinary. I don't have a specific preference as to the size of my nib. Within my collection, I have everything from an EF to a BB. However, as my handwriting is small, I don't tend to use anything larger than a medium nib. When I write with a gold nib, I've also found that they tend to lay down a fatter, wetter line.
"I love the fact that different nibs and different ink colours can really transform your writing. For example, I enjoy writing in brown inks because they make me feel like I could be an old archivist!"
I don't get to write with my luxury pens enough, but I really enjoy it when I do.
"I am a primary school teacher, so I don't get to use my luxury pens at work as the paper quality isn't good enough. This means that I don't use my fountain pens as much as I would like to, but I really love writing with them when I get the chance.
Some people see luxury pens as a status symbol, but for me, it's a way of buying myself something special that I want and enjoy.
For anyone who hasn't had the opportunity to try writing with a luxury pen, I would say that they are missing out. The writing experience is entirely different, so if you haven't had a chance, why not try it and see how it compares."
At izods, we sell a wide selection of pre-owned luxury fountain pens. So if you're looking for something to add to your collection or have an existing fountain pen, rollerball, or ballpoint pen that you are looking to sell, please get in touch.